Pascale Frossard
Concert Privé le 3 Decembre 2011
Seulement sur Reservation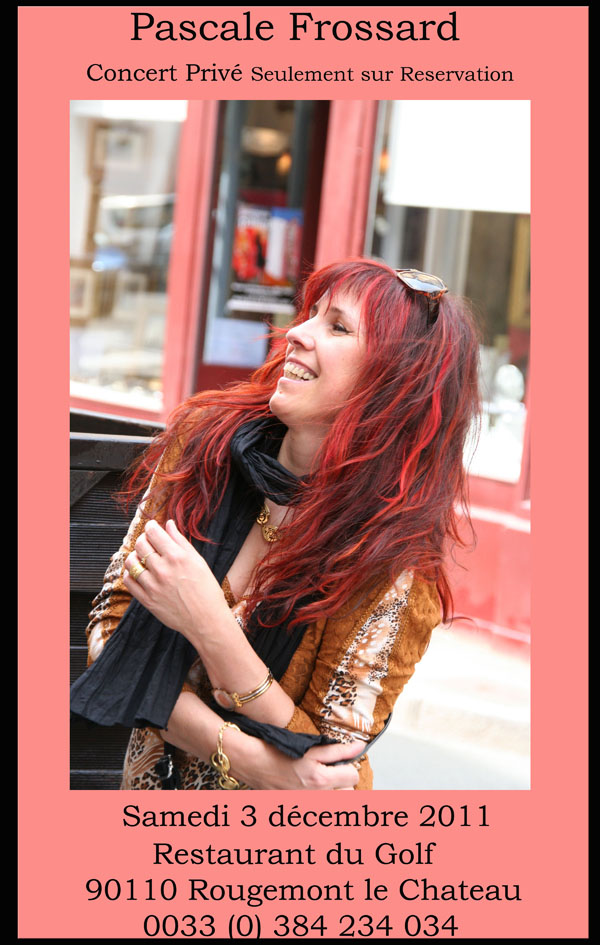 http://www.restaurant-golf-rougemont.fr
Restaurant du Golf
90110 Rougemont le Chateau
0033 (0) 384 234 034

PASCALE FROSSARD IN THE BRAZILIAN TV
A Big Good News... My Song "Juste Jouer" is chosen to represent France
in one of the broadcasts from 'TV Cultura" in Brazil.
It's a series of documentaries about brazilian writers that went to some capitals of the world for a month to write a novel. One of these places was Paris and "Juste Jouer" will be the music for that episode. I'm very proud because I love this fabulous country full of art... I love Brazil.... I very thank you "Luiz Macedo" from Sao Paulo who has invited me for his project. The episode "Paris" will broadcast June, 16.
Here is the link to TV Cultura:
http://tvcultura.com.br/
You can find the series under "TV", and "Sessão Independente" : http://cmais.com.br/sessaoindependente?d=2011-06-02
And here is the blog that the writers did during the trips:
http://www.amoresexpressos.com.br

I share with you the Teaser of the Clip "Juste Jouer"


SONG FOR MISTY

Pascale Frossard Clip Officiel
http://www.youtube.com/watch?v=rOSGhITg1sg

Juste pour partager une bonne nouvelle
J'ai plus de 10000 visites sur Youtube pour ma Video "Song For Misty"

Just to share a good news
I have more than 10000 visits in Youtube for my Video "Song For Misty"


Ce clip fait parti du DVD "Juste Jouer" en vente sur
www.pascalefrossard.com